While researching the perceptions of teachers working in BC, I came across a survey from the BCTF (BC Teacher's federation). This was an insightful read that I have condensed at your leisure.
A few things to consider
2,344 respondents out of 36,672 teachers

37% of respondents have between 11-20 years of experience, 29% have 21-30 years

43% of participants taught grades 10-12 in the last year with the  breakdown of most participants in the following subject areas taught:
English Language Arts (32%)   Social Studies (30%)
Science (24%)   Mathematics (22%)
Self Assessments of Valued Importance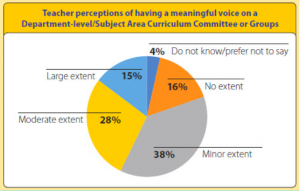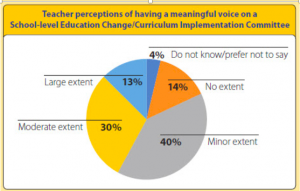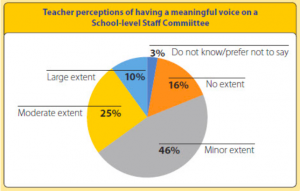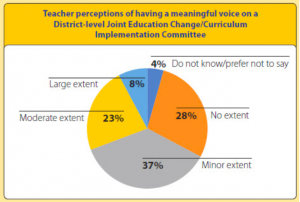 From the data, we can see that teachers feel that they have little to no voice in their own school departments and the percentages get worse as we extend to staff committees and beyond to the district level.
Here were some comments by teachers in the anonymous survey:
" It has doubled my work load—was on every committee available to be a strong voice for teachers but it made no difference since the powers at large did their own thing anyways. I was heard, but no action was taken to reduce teacher work load. Next year I am not volunteering on any educational change committee since I am not wasting my time any more."
"I am not sure that the spirit of collaboration has been mutual."
"It has felt-top down. Teachers are told what will happen by admin, and when we raise questions, they don't know much and have to go back to the district or ministry for clarification. We need to slow down the process."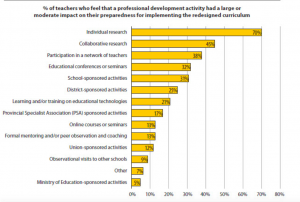 This graph shows that teachers feel that the most worthwhile professional development opportunities to implement the redesigned curriculum occur when they produce their own materials or collaborate with colleagues. Astoundingly, the workshops put on by the Ministry of Education were voted the least useful in the self assessments.
Here were some comments made by teachers about sending feedback to the Ministry:
"Our department wrote an eloquent letter to the Ministry when they requested feedback. We spent weeks writing our thoughts and concerns and we were never given any feedback or response of what happened with our feedback."
"I would like to know that the feedback we have been giving the Ministry is actually being considered."
.. and comments about the Ministry led Professional Development Workshops:
"We have these tiny meetings [related to assessment and curriculum implementation] for a few hours during Pro-D days that are months apart and generally raise more questions for me rather than giving me insight and understanding or practical knowledge on how to do this."
"Endless meetings…jargon-filled discussion…nobody to clearly identify a goal and a process and a possible assessment strategy."
"The single day pro-d sessions are not useful to improve my learning or implementation of new curriculum."
Author: Aaron Larnder
References:
British Columbia Teacher's Federation Curriculum Change and Implementation Survey. (2017) Retrieval date: October 15th, 2019. BCTF website: https://www.bctf.ca/CurriculumSurvey/
Photo by Element5 Digital on Unsplash